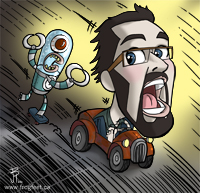 Frog Feet Animation Productions Toronto, On. Canada
Welcome to Frog Feet Productions a small but versatile animation studio in Toronto, Ontario, Canada, specializing in creating short animations painstakingly hand crafted with sweat and tears (of joy) since 1999.

We specialize in animated shorts, cartoons, corporate and educational videos, interstitials, commericals, and other short animation formats. Our work can be seen on television across North America and Europe on networks such as CBC, PBS, TELETOON, MUCH MUSIC, HISTORY TELEVISION, MPIX and the COMEDY NETWORK. A selection of TV shows and Films featuring our animations include: "The Red Green Show" (TV), "History Bites" (TV), "Listen Missy" (TV) "The Frantics Reunion Special" (TV) , "At Home By Myself... with You" (Film) and the documentaries "Tall Girls: A story of Giants" and "Peep World" to name just a few.

About Bryce Hallett
Bryce Hallett has been an independent animator since 1999. He is a graduate of the Graphic Communications Progam at Canadore College in North Bay, Ontario and the Classical Animation Program at Sheridan College in Oakville, Ontario. He has studied film and television production at Humber College, and acting, writing, and improv at various institutions such as the Second City Toronto, Theatresports Toronto, The Gateway Theatre Guild North Bay, the University of Toronto and the Poor Alex Theatre. He has won an Empixx award, two Pixie awards and an award from the Savannah International Animation Festival for his animations in various commercials and PSA's.
---

He is also the illustrator of Ellen Besen's "Animation Unleashed:100 Principles Every Animator, Comic Book Writer, Filmmaker, Video Artist, and Game Developer Should Know ". An excellent book on animation and visual storytelling available in fine bookshops everywhere.



---