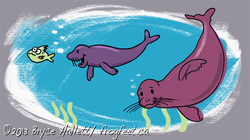 Recently when i was upgrading some software I use to animate with, the folks at Toon Boom asked what is was working on at the time and if they could do a little interview with me about how i use TB Harmony in that project. That's pretty flattering to be asked.
Here is the link to the article:
Toon Boom
link
I was hoping they would include more of the finished art and some animation and not just the really rough sketches but I'm not complaining. It was very nice to be interviewed and it's a software i actually do enjoy using so It's pretty cool to be included on their site. I've included some more concept art below. You can see how the style evolved from the almost stick figure stuff to the finished look that ended up as animation in the series. These seals are pretty close to the final design. Over all it was a fun project ot work on and i was really happy with how it turned out.
If you are interested in seeing the program that features the animation it's called "Explore More" and it is currently airing on TVO.