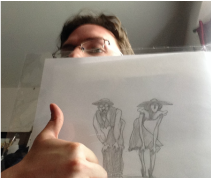 I like getting stuff int he mail. It's so rare now. But today i received two excellent packages. Firstly, there was a package from
Bill Plympton
! ( yaay) which contained an original animation sketch from his new movie "Cheatin' " as well a a colour print from a scene in the film. I pitched in to the kickstarter and this was one of the perks. I've been a fan of Mr. Plymptons since highschool when my Grandfather gave me a book on caricatures that featured his work. Then in college i discovered his films "Your Face", "How to Kiss" and others and always loved his style and the humour is very much up my alley. You should check out his
Vimeo
page where he has uploaded many behind the scenes and making of videos for his film. Also now that the film is finished I'll get to see it at this years
TAAFI
festival. If you are near or at least a quick drive to Toronto in June i highly recommend checking this out. Definitely looking forward to that.
Package #2 contained an ACME animation punch from
Lightfoot ltd
. It even comes with a little screw driver for adjustments! I've been wanting one of thee for a while and finally bit the bullet and got one. Very excited to be punching some regular paper and magically transforming it into ANIMATION PAPER. ( Oooh! AHHHH!) I used to buy animation paper Chromacolour in Calgary, AB, but they seem to have disappeared, so this will at least make sure i can still animate on paper in the future. Also i have some ideas for water colours and inks i'd like to try and this will allow me to punch different kinds of paper and experiment with that. I'll post some more about that over the summer.
So yaay for exciting animation mail!
Pictures below... i have no idea why they are upside down. They aren't upside down in the jpegs on my desktop... and i can't seem to change them here. Weird.